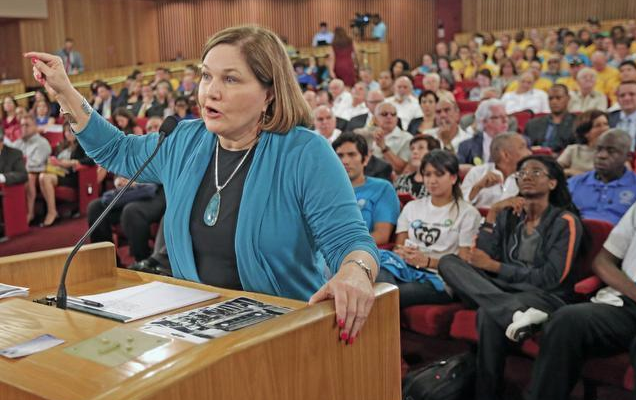 Cuban Exile History Museum wins Miami-Dade vote for bayfront land
Miami-Dade commissioners on Thursday endorsed giving county land to a waterfront Cuban exile museum in downtown Miami, a vote that followed a debate highlighting the community's ethnic sensitivities.
"The Cuban exile experience is all about the American story," Commissioner Esteban "Steve" Bovo, the son of a Bay of Pigs veteran, said before the 8-3 vote. "It's about those who come with nothing and create something."
The decision instructs Mayor Carlos Gimenez to begin negotiations with organizers pursuing a nonprofit museum on county land known as Parcel B, which sits east of the county-owned AmericanAirlines Arena. Many hurdles remain for the $125 million museum, including funding. Commissioners added a proviso in the resolution saying no county dollars could be used in "construction or maintenance" of the new museum. Organizers have not requested public dollars, and commissioners would need to vote again on a final plan.
Thursday's vote did not unfold along ethnic lines among the commissioners, as some had predicted. The commission's senior African-American member, Dennis Moss, backed the exile-museum resolution. Xavier Suarez, Miami's first Cuban-born mayor and now a county commissioner, voted against it.
But the discussion leading up to the vote captured the sensitive ground involved in turning over county land to honor Cuban immigrants. African-American commissioners argued that when the same panel considered turning over county land to a Nigerian museum last year, the matter received more scrutiny.
"I don't want this to be Cubans against whites or blacks or whatever," said Commissioner Audrey Edmonson, whose district includes the proposed museum site. "Cuban immigrants did a lot. The African Americans and the Bahamians all did a lot in this community.
"I support this museum," Edmonson continued. "Just not on Parcel B."
Voting for the museum item were Bovo, Moss and commissioners Bruno Barreiro, Lynda Bell, Jose "Pepe" Diaz, Rebeca Sosa, Javier Souto, and Juan C. Zapata. Diaz, Sosa and Souto were born in Cuba, while Barreiro and Bovo are the sons of Cuban immigrants, according to their official biographies.
Voting against the museum item were Suarez, Edmonson and commissioner Barbara Jordan. Commissioners Sally Heyman and Jean Monestime were not present for the vote.
This would be the third new major museum devoted to Cuban subject matter in Miami-Dade. Three miles from Parcel B, Miami-Dade provided $10 million in borrowed county construction dollars for the Cuban Museum, which is slated to open next year.
While that Coral Way museum seeks to highlight the contributions of Cuban immigrants to art, literature and culture, the exile museum would explore historical moments tied to Cuban immigrants, according to both groups. A third museum slated to open in Hialeah Gardens won $900,000 in state funds to back its showcase of the 1961 Bay of Pigs invasion.
The Cuban Exile Museum would occupy about an acre of the three-acre site behind the arena, home to the Miami Heat. Miami-Dade paid $38 million for the area in the late 1990s as part of the agreement to provide the Miami Heat with a new facility downtown. The land was divided, with the arena slated for Parcel A, and Parcel B advertised as future park land as the team campaigned for the referendum that ultimately approved the arena deal.
Heat executives also secured development rights on Parcel B, and efforts to bring a high-rise residential tower there during the real estate boom erupted in controversy. The team later surrendered their rights to Parcel B to the county, and community activists want Miami-Dade to follow through on plans for a park there.
"We are here to today to request you make good on this promise," Dalia Lagoa, of the Downtown Neighborhood Alliance, told commmissioners, "a promise made to the public at the time [Miami-Dade] needed approval of the arena."
When he was pushing for a soccer stadium at nearby Museum Park, Gimenez, who was born in Cuba, designated Parcel B as a lush waterfront park despite the active campaign for the exile museum. Gimenez did not attend the exile museum debate, but his finance chief, Ed Marquez, told commissioners "the mayor has expressed to us he would prefer to have open green space there."
Organizers of the museum showed renderings with two acres of park space north of the 75,000-square-foot museum. The complex also was designed to address complaints by the Heat that it needs Parcel B for overflow parking and staging when major concerts and events occupy the arena.
The museum's plans include ground-level parking areas with enough head room to accommodate the Heat's event logistics, including circus giraffes. But the Heat, which recently ended a profit-sharing dealwith Miami-Dade that gave taxpayers a chance to share in event revenue, officially opposed the museum plan this week. "While The Heat Group is supportive of the Cuban Museum," Heat Group general manager Kim Stone wrote Bovo on Monday, "we urge the county to seek alternative locations for its development."
Backers of the museum portrayed the institution as a tourist attraction highlighting history of local interest but with global appeal.
"Our tagline for the museum is: from tyranny to freedom," said William Muir, a Bay of Pigs veteran and an organizer of the museum push. "We want to show everyone how people who left tyranny came to a land of freedom and opportunity."
Thursday's discussion amounted to a sequel from an initial stab at the matter on Tuesday, before an extended hearing on Gimenez's $6 billion budget proposal. Before deferring the vote, commissioners heard from a string of residents on both sides of the controversy — including supporters in a coordinated uniform of white guayaberas.
"Miami is know for the sun and beaches. Let Miami be known for freedom," Francisco Rumín Rodriguez, who came from Cuba to the United States at age 12 under the Pedro Pan program, said at Tuesday's hearing. "This museum is a beacon. Don't let this opportunity pass."
Countered Aramis Lorie, a downtown resident and business owner: "I just think it is the wrong place to have another museum, another structure, another impediment to just public use."
While Tuesday's back-and-forth mostly jumped between the park-versus-building question, Thursday's session returned again and again to ethnic issues.
"African Americans were technically exiled from downtown," Mae Christian, a program director for a workforce organization, said during the public-comment session. "If you want to do the museum, I think you need to put in Little Havana."
She spoke shortly after Juan Dominguez, rector at Miami's Ermita de La Caridad Catholic sanctuary, addressed commissioners through a translator. "We're not talking about a museum of art," he said. "We're talking about a museum of the history of a part of the community."
Though he voted for the museum plan, Commissioner Moss pushed back on the idea of Cuban immigrants receiving outsized credit for Miami's success. He said he conditioned his vote on fellow commissioners backing a future plan for a black-history museum.
"Black folks were part of creating the city of Miami. That started all of this," Moss said. "The legacy of the Cuban exile community since 1959 has been a phenomenal legacy. But what I'm saying is we have people who came here in the 1890s, and that legacy is also important in this community."
Sosa, the chairwoman of the commission, said she endorsed as many ethnic-oriented museums as each community could support. "It's good that everyone is recognized — Bahamians, blacks, Cubans, Colombians. … We have the Jewish museum," she said. "If they pay for it, and the public doesn't, let's do it."
– By Douglas Hanks [email protected]
– Miami Herald staff writer Patricia Mazzei contributed to this report.